"You don't need someone to complete you.  You only need someone to accept you completely."   Carl Rogers
Specialist Counselling
I believe that everyone is unique and capable of positive change within themselves. Each person has the ability through guidance to become more self-aware about how they view themselves, other people and the world they live in. I can help you to become self-empowered and, in effect your own therapist, and live a more fulfilling life by recognising your negative thoughts and change them to more positive, lasting ones.
Alcohol & Drug Addiction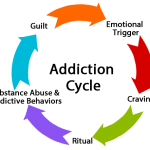 The compulsive use of alcohol and/or drugs is an addiction which can impact negatively socially, psychologically and physically on you as an individual.  Realising you have a problem is the first step to getting better but sometimes the hardest. People misuse substances for many reasons and particularly to lift their mood; help blot out past trauma or deal with overwhelming feelings.
I can help by exploring issues of why you use substances and how they affect you, your life and your health.  By identifying triggers and issues my counselling can help to bring in ways to cope and overcome addiction and prevent any relapses.
Self-Harm & Self-Injury
There is a great deal of stigma attached to self-harm or self-injury.
Self-harm involves activities such as reckless behaviour, gambling or spending beyond a person's income. Self-injury includes cutting, alcohol or drug abuse, medication abuse and eating disorders.
Self-harm and self-injury is always serious, even if the wounds are superficial, the psychological wounds are significant.
I have spent many years working with clients who harm and offer non-judgemental counselling to help get to the root of why they are harming. By establishing trust between myself and my clients, I can help you to overcome negative behaviour and lead a more positive life.
Gender Dysphoria, Lesbian, Gay, Bisexual & Transgender (LGBT)
I regularly work with lesbian, gay, bisexual, Transgender clients and same sex couples.  I help with the many issues that you face in your everyday lives as a result of homophobia and heterosexist views within our society.  I can help to explore your feelings around your sexuality and internalised feelings to enable you to accept yourselves and lead more fulfilled lives. 
I also offer support to family members who may have difficulty coming to terms with your sexuality or preferred gender